Lansdale and Gladys Clagett Bequest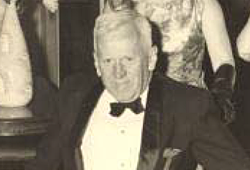 A former physical therapy patient from Prince George's County, Maryland, grateful for the physical therapy he received years after contracting polio, but always wishing he had received it sooner made a significant financial gift to the Foundation for Physical Therapy through his estate.

The gift of over $720,000 from the estate of Lansdale and Gladys Clagett of Upper Marlboro, Maryland was announced by the Foundation for Physical Therapy at its annual dinner dance on Thursday, June 11, 2009 at the Hilton Baltimore. Lansdale Clagett, a former member of the Maryland House of Delegates and Prince George's County Commissioner, contracted polio as a young adult, around 1920. After 20 years of physical therapy at a local hospital and with a visiting physical therapist, beginning in the 1950s, Clagett fulfilled his dream of lifting himself out of his wheelchair and walking up a hill to his nephew's home.

"My uncle was determined to walk on his own, and one day, he did just that," described nephew Robert Y. Clagett, Esq, of Upper Marlboro. "Using crutches, and with his physical therapist by his side, he walked about a block over a hill from his house to our house next door, fulfilling his dream." My uncle always said that if physical therapy had been available when he first contracted polio, he would have been able to walk most of his life. He wanted other people to have the chance to receive the greatest benefit from physical therapy. That's why he gave a large portion of his estate to help the physical therapy research efforts of the Foundation."

Robert Clagett, Esq, and extended family were recognized during the Foundation event that raises funds for physical therapy research and honors those who have supported the Foundation's mission. Rachel Clagett, great niece of Lansdale and Gladys is now a physical therapist at BIR Outpatient Therapy in Dallas, Texas. "We are deeply thankful for the Clagett family's generous bequest to the Foundation," said former Foundation President Richard K. Shields, PT, PhD, FAPTA. "It is especially meaningful to all physical therapists and researchers in the profession that this gift comes from a patient who so appreciated the physical therapy care he received he included the Foundation in his will. This is the greatest testimony to the importance of physical therapy."

The Clagetts' gift allowed the Foundation to fund a $300,000 Clagett Family Research Grant to Dr. Laurie King at Oregon Health & Science University in 2011. The bequest also supports Foundation operations and has enabled the Foundation to improve care of physical therapy patients by providing other research grants, fellowships and scholarships. The scientific knowledge that will result from this contribution will undoubtedly benefit many people for years to come.

The Clagett Family Research Grant was the Foundation's first high priority/high impact research grant, examining physical therapy interventions for older adults suffering from multiple chronic conditions. The impact of Dr.'s King's study could influence the way in which rehabilitation is delivered to those with chronic neurologic deficit and other co-morbidities. Read more about the study here.

Over the last 35 years, the Foundation has awarded more than $14 million in research grants, fellowships, and post-professional doctoral scholarships to more than 550 emerging scientists. Foundation-funded researchers have gone on to receive an estimated $725 million in external funding from the National Institutes of Health and other sources. Many of today's leading and emerging physical therapist researchers, clinicians, and academicians began their careers with a grant or scholarship from the Foundation.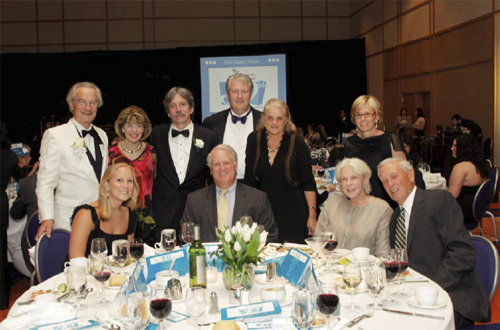 Family of Lansdale and Gladys Clagett of Upper Marlboro, Maryland, are honored for the late couple's donation to the Foundation for Physical Therapy at the Foundation's 30th Anniversary Dinner Dance on Thursday, June 11, 2009.

Standing from left to right: Foundation honoree Stanley Paris, PT, PhD, FAPTA; Former Board of Trustees Member Marilyn Moffat, PT, DPT, PhD, FAPTA, CSCS; Board of Trustees President Bill Boissonnault, PT, DHSc, FAAOMPT; Former Board of Trustees member Chuck Wetherington; Former Florida Physical Therapy Association President Catherine Patla, PT, DHSC, OCS; Former APTA Deputy Executive Officer Janet Bezner, PT, PhD. Seated from left to right: Rachel Clagett, great niece; Steve Clagett, nephew; Rhea Clagett, wife of Robert Clagett and Robert Clagett, nephew. Photo courtesy of David Braun Photography.