Bella J. May Bequest; New Scholarship Fund Established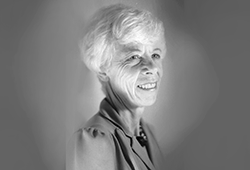 2016 has been difficult on the profession in that another physical therapy giant has passed.
Renowned physical therapist educator, author and clinician, Bella J. May, PT, EdD, CEEAA, FAPTA, passed away March 16, 2016 at the age of 86. Longtime advocate and supporter for the advancement of physical therapy as a doctoring profession, Dr. May left the Foundation a generous planned gift of $100,000 to establish a scholarship fund.
On several occasions, Dr. May advocated that physical therapy be "recognized as a doctoring profession and be considered by the public as independent professionals." Her goal was to "ensure that all public contact with physical therapy reflect a doctoring profession." This she believed to be critical to the advancement of physical therapy.
The Foundation will establish the Dr. Bella May Scholarship Fund to support post professional graduate education of physical therapists and physical therapist assistants seeking advanced degrees to become teaching faculty in physical therapy educational programs. The graduate scholarship is for the support of educational research activities of post professional masters and doctoral students with the emphasis on creativity in educational approaches. The Foundation anticipates offering the first scholarship from Dr. May's fund in the 2017 funding cycle.
Born in France and raised in Vietnam, Dr. May and her family first made their way to the United States during World War II, when she was just 11 years old. She became interested in physical therapy later in life and was awarded a scholarship to attend Stanford University. There she had the opportunity to learn from physical therapy legends such as Lucille Daniels and Sarah Semens.
Dr. May became a member of the American Physical Therapy Association in 1952 and has since received several awards and accolades. Among her countless achievements, she was named the 1992 Catherine Worthingham Fellow and delivered the 1996 28th Mary McMillan lecture. She received the Lucy Blair Service Award in 1982 , the "Golden Pen" award for scientific writing, and the Chattanooga Research Award in 1992.
Dr. May served as chairwoman of the Department of Physical Therapy at Augusta University when it was first formed in 1970 and penned several books including, Prosthetics and Orthotics in Clinical Practice: A Case Study Approach; and Lower Limb Amputations: A Guide to Rehabilitation.
The Foundation is grateful to Dr. May and with the establishment of this fund, will work to guarantee that she continues to have a lasting influence on the profession.
You can make a gift to the Bella May Scholarship Fund today to help advance physical therapy as a doctoring profession. Visit our website at https://www.foundation4pt.org/may/