Dr. Sue Michlovitz Makes Bequest to the Foundation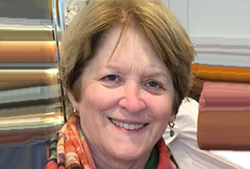 Sue Michlovitz, PT, PhD, CHT, recently became a member of the Foundation's Legacy Society by making a planned gift to the Foundation. She has participated in physical therapy research, and knows full well the importance of research not only for the profession but for the patients they serve.

As Dr. Michlovitz was just starting off, she was on track to becoming a physical educator for special needs children, but that changed after a field trip as an undergrad at Case Western Reserve University led her to a school for disabled kids. There she saw firsthand the role physical therapists had in altering the children's lives and knew that this was what she really wanted to do.

Dr. Michlovitz later proceeded to obtain a certificate in Physical Therapy from the University of Pennsylvania, a Master of Science in Physiology from Temple University School of Medicine and a PhD in Orthopaedic physical Therapy from Hahnemann University. While at the Medical College of Pennsylvania in the mid 1970s, Dr. Michlovitz had the opportunity to work alongside two orthopaedic surgeons who helped shape her interest in both orthopaedic and hand physical therapy.

Dr. Michlovitz explains that her interest in hand physical therapy came about not only from working alongside her mentors, but also due to her love and devotion to photography. "As a photographer and artist, I really appreciate the need to use our hands," she says, not only in this craft but in all things we do."

She has since established herself in the academic and clinical arenas and presently serves as an Adjunct Associate Professor, Department of Rehabilitative and Regenerative Medicine, Program on Physical Therapy at Columbia University and Adjunct Clinical Associate Professor, Rehabilitation Sciences, McMaster University. She was in private practice in Ithaca from 2007 through 2015. She continues to consult to musicians and artists.

"I've been a physical therapist in clinical practice as well as teaching for a long time," she said, "so I feel that in order to substantiate what we do, we have to support research to look at whether the methods we use are effective or not. My profession has been very good to me and this is one of my ways of giving back."

"I am proud of my profession and I am proud of what we can do to help people in the rehabilitation process," she says. "It is important to be able to perpetuate the work that we have been doing for years in a way that improves our ability to provide care and consultation to our patients."

Dr. Michlovitz is not a stranger to charitable organizations or contributions. As a physical therapist, she has also been involved with another non-profit called Guatemala Healing Hands Foundation. There she combines her two loves of physical therapy and photography and works alongside surgeons and other therapists to improve the quality and availably of healthcare in Guatemala. She is planning to travel back to Guatemala in November. This will be her eighth trip with GHHF since 2007.

Today she serves as Associate Editor for the Journal of Hand Therapy. In 2003 she was awarded the "Hand Therapy Paper Award" at the American Association for Hand Surgery Annual Meeting and was a 2003 recipient of the Vargus Hand Therapy Teaching Award and serves as the 2013 President of the American Society of Hand Therapists. She has been an APTA member since 1971.