Bette C. Horstman, PT Makes Bequest to the Foundation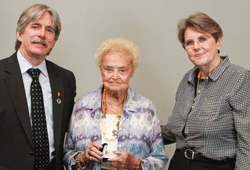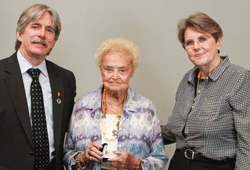 Bill Boissonnault (left), Bette Horstman (center), and Pat Traynor (right)
Bette C. Horstman, PT, a benevolent supporter of physical therapy research, recently became a member of the Foundation's
Legacy Partner
program by making a planned gift to the Foundation to help fund research.
After graduating from Mayo Clinic in Rochester, Minnesota, Horstman joined the United States Army as a physical therapist. She was immediately sent to Saipan (Northern Mariana Islands) as a Second Lieutenant to help the troops recover from war wounds. It was in Saipan, where Horstman organized the island's first physical therapy department.
Throughout her career, Horstman served at Fort Sam Houston and Harmon General Hospital in Texas and Fort Lewis in Washington State and eventually climbed the ranks to become a First Lieutenant of the United States Army. Before being discharged, Horstman received several awards including the Meritorious Service Unit Citation with 1 Star, Asiatic Pacific Service Medal, and World War II Victory Medal.
After serving in the Army, Horstman moved to Illinois and worked as a physical therapist in a hospital in a Chicago suburb where she worked for a decade. Horstman made history again when she later opened her own practice becoming the first female to start her own physical therapy practice in Chicago.
A lifetime member of the American Physical Therapy Association (APTA), Horstman was given her 65-year member pin in January 2014. She also received APTA's Lucy Blair Service Award in 1994.
Dr. Horstman is honored to contribute to the Foundation and decided to make a planned gift because it would give her yet another opportunity to give back and "help others". She believes that the physical therapy profession has a tremendous influence on the entire health industry. She notes politics and research as the two most critical factors that will help advance the future of physical therapy. "I hope the next generation [of physical therapists] realize that research is very important in helping people," Horstman says.