Foundation Trustee: Randy Roesch Gives Back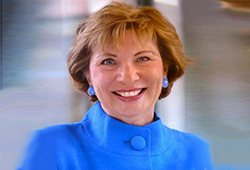 After years of service as a physical therapy practitioner and fulfilling several roles on physical therapy Chapter, Section, and national Boards, Randy Roesch, PT, DPT, MBA, has come to appreciate the importance of physical therapy research. Now a business consultant, retired PT, and member of the Foundation's Board of Trustees, Roesch also became a member of the Foundation Legacy Society when she decided to generously give back in the form of a planned gift.

Growing up, Roesch had always known she wanted to go into the medical field. As she started pursuing PT, she regrettably recalls that research wasn't part of the mandatory curriculum. "When I went to PT school, there wasn't much research to demonstrate the efficacy of PT, nor were we encouraged to do research," she says. "It's a shame because as research started gaining momentum, we came to understand how far behind we were in having research to substantiate the effectiveness of what we do."

Upon being elected to the American Physical Therapy Association board, Roesch had the opportunity to promote the benefits of having sound research and then become involved with the Foundation for Physical Therapy. She not only saw the need to promote the mission of the Foundation, but to also support it financially. "It was time we started working to get ahead of the curve to acquire the information necessary to prove the usefulness and necessity of this profession."

While on the APTA Board, she simultaneously served as secretary on the Foundation Board of Trustees from 2001-2003. Roesch explains that it was at this time that she decided she wanted to do more in order to help promote the work the Foundation does in elevating the profession through proven research. "A good way to do that," she said, "was by including the Foundation in my life insurance policy."

"I had come to develop this strong belief in the Foundation and why we need to support it, but even more so, I felt, as a leader, that this was a good way to model to my colleagues and peers and help people who wanted to give more, to understand that this is a potential way to give."

By doing so, she has secured a place in the Foundation's Legacy Society. Not only is she an active donor, but Roesch is serving for a second time on the Foundation's Board since 2013 and has been Secretary since 2015. She also currently serves on the Foundation's Planned Giving Committee.

It is due to her commitment to the Foundation that she continues to work towards increasing visibility and spreading its mission. Roesch wants people and other potential donors to know that "there are several avenues to donate and that we are all going to be able to give in different ways. For me, this was the very best way. People want to give considerably and feel they can't do that with their current budget, but this is a more palatable way to do so. They just need to realize this option exists."