Bequest to Provide Clinical Electrophysiology doctoral Scholarships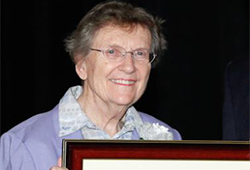 A pioneer in electrotherapeutics and electrodiagnostics, the late physical therapist Charlene "Billie" M. Nelson, PT, MA, FAPTA, left the Foundation for Physical Therapy a very generous bequest of $200,000 to establish the Charlene Mae Nelson Endowment Fund. The Fund will provide doctoral scholarships to physical therapist researchers with priority given to those involved in Clinical Electrophysiology.
Billie was a founding member of the Academy of Clinical Electrophysiology and Wound Management and the first woman to receive the Electrophysiology Clinical Specialist certification. She was an associate professor emerita in the Division of Physical Therapy at the University of North Carolina at Chapel Hill.
Described by all who knew her as a "kind, passionate, and beloved professor, mentor and friend" Billie wanted to leave behind a legacy that would continue elevating the profession for future generations.
Billie received both her Certificate in Physical Therapy from the Medical College of Virginia in Richmond, Virginia and a Bachelor's in Applied Science from the Richmond Professional Institute, College of William and Mary in 1951. In 1964, she earned her Master's degree in Anatomy from Duke University.
She passed away on May 11, 2017 at the age of 86.
Billie strongly believed in the power that education and research could have, and her gift has ensured that the Foundation will continue to provide scholarship opportunities for researchers interested in demonstrating the relevance of electrophysiology and wound management in physical therapy.
To help grow the Charlene Mae Nelson Fund, visit Foundation4pt.org/nelson/.