Planned Giving Chair Explains His decision for Joining the Legacy Society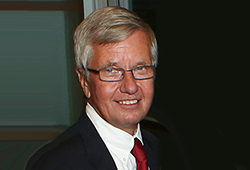 Retired physical therapist and member of the Foundation's Board of Trustees, Fran Welk, might consider his introduction to the PT profession as ordinary. But to many, it can be classified more so as an attribution to fate; he was simply in the right place, at the right time.

Fran Welk, PT, DPT, MEd, attended college knowing he wanted to be involved in athletics and so thought that meant he had to enroll as a physical education major. Before he could complete his registration, a Professor—who also happened to be a physical therapist—cautioned Welk to instead register as a Physical Therapist student. "I didn't know what physical therapy even was and he simply told me, 'don't worry, we'll figure it out.'"

Now not only a committed trustee, but a devoted advocate of physical therapy research, he has since named the Foundation as the beneficiary of his estate plan, investing in both the profession and his family's future.

"With two of my three sons following in my footsteps into the PT profession, I had a couple of very good reasons to want to ensure that the future of the profession is stable and thriving for a long time to come," said Welk.

Welk vaguely remembers first learning about the Foundation when the time came for him to renew his membership with the American Physical Therapy Association (APTA) and an assessment was included to fund the Foundation, then in its infancy. But he really began to understand the impact of research as he rose in the ranks of leadership in APTA.

"Physical therapy has been an intimate part of our family's life," Welk explained. "I believe that it is important to leave the profession and the professional organization better than you found it." But what really motivated Welk to decide to make what would become a more substantial gift, was his desire to help the next generation of physical therapists.

It is important to note that there are several ways to leaving a gift of charitable bequest. First, a donor can include the Foundation in their will or trust. Second, a donor can designate the Foundation as beneficiary of a retirement account. Third, a donor can name the Foundation beneficiary of a life insurance policy. And one of the benefits in leaving the Foundation a planned gift is the possibility of receiving tax benefits. Welk has repeatedly pointed out the ease in which such a gift can be made and regularly encourages other people to do so as well.

However, he does urge that people work with professional advisors to see what option is best for them, providing first for one's family and then moving to support organizations that are of importance to them.

"Do it well before retirement," Welk advised. "You'll be happier knowing that your family will be secure and that you're making the greatest contribution you can to the future of physical therapy."

Welk is currently serving his second term on the Foundation Board of Trustees and as Chair for both the Audit and Planned Giving Committees. In the past he has served as Treasurer of both APTA and the Foundation.