Margaret L. Moore: A Legacy That Will Sustain Research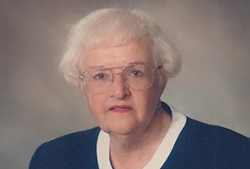 At a time when women did not have many opportunities, Margaret L. Moore, PT, EdD, FAPTA, carved her own path. After having a rewarding career in physical therapy, Moore ensured she will still be helping future generations enjoy the profession she dearly loved by naming the Foundation for Physical Therapy as beneficiary in her will. A Promotion of Doctoral Studies Scholarship (PODS) will be awarded in Margaret's name this summer as a tribute to her contribution. Moore passed away June 15, 2016 at the age of 94 in Chapel Hill, North Carolina.

Moore had already earned her bachelor's degree in History from James Madison University when she enrolled at Walter Reed Hospital during World War II to get her certificate in physical therapy. After service in the Army as a commissioned officer, she pursued her master's degree at the Medical College of Virginia and her doctorate at Duke University.

Without hesitation, Moore eagerly joined the American Physical Therapy Association (APTA) and remained dedicated to APTA throughout her career. Moore became an Educational Consultant for APTA in the early 1950s before going to the University of North Carolina, where she served for 22 years as the Director of the Division of Physical Therapy.

Over the years, Moore received numerous APTA awards, including the Lucy Blair Service Award and the Mary McMillan Lecture Award. Since 1989, the Margaret L. Moore Award for Outstanding New Academic Faculty Member has been given in her honor.

As someone who was very dependent on scholarship support to get through college, and as one of the first physical therapists to benefit from a research grant from the Foundation for Physical Therapy in 1970, Moore had been committed to helping the Foundation continue its crucial work for the profession. "Physical therapy's been very good to me," Margaret explained. "It offered me more opportunities than I ever dreamed of." Due to her generosity and foresight, Moore will continue providing opportunities for the next generation.