New Legacy Society Member Draws Connection Between Advocacy and Evidence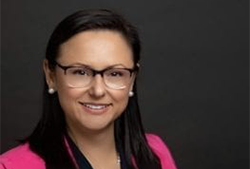 Theresa Marko, PT, DPT, MS, is a physical therapist who views the health of her patients and the health of the profession in a broad view. As a donor to both the Foundation for Physical Therapy Research and the PTPAC, the political action committee of the American Physical Therapy Association, Marko supports two separate organizations that share a common goal of advancing the physical therapy profession.
Marko was drawn to physical therapy through her early interest in the science and mechanics of the body. She began her career as an early intervention specialist but wanted to expand her expertise to include other age groups. Today, as a clinical specialist in orthopedic physical therapy, she sees patients from infants to adults at her practice, Marko Physical Therapy, in New York City. "I can see the whole spectrum, and, from my point of view, I think that that's really cool because I can see the progression of what happens in someone's lifespan and how what you do early in life affects you later."
In viewing the big picture growth of the profession, Marko's journey to the Foundation began with her journey towards advocacy. She began to realize that legislators didn't really understand physical therapy and she wanted to support research that would help show the value and role of physical therapy in the larger healthcare system.
"I can see the Foundation as hand in hand with advocacy because the Foundation is the place where we can send our money to go out and prove that what we do works and that will help our advocacy efforts," said Marko. "In order to change the laws and make a dent in the healthcare system in America, we have to continue to prove what we do and how it works and how it changes lives every day."
Marko recently made the decision to become a Foundation Legacy Donor. The Foundation's Legacy Society is a group of supporters who have left the Foundation in their will or made estate plans that include a future gift.
"As time progressed, I realized that there is literally a legacy that I am leaving and there is a legacy that all of us are leaving in the profession," said Marko. "I want the profession to continue to thrive and to blossom and that's why I wanted to help the Foundation prove what we do works."
Estate planning is for everyone who wishes to prepare for the future. Preparing a will or estate plan is a way to continue caring for the people and causes that are most important. For information on the Foundation's Legacy Society, and a free estate planning guide, visit LegacyFPT.org.